I ended the previous blog with the words: after the campaign we will let you know how much the campaign has raised and how many people were involved in this result, and also tell you about our next steps to make our dream, setting up an optical business, come true.
As a reminder, the goal of starting this business is that the Ruach Fundación will become self-sufficient, as the profits from the optical business will be used to fund Ruach's social programmes (community house, activity club, awareness-raising) to improve the lives of intellectually disabled adults in and near Juigalpa.
The campaign
The 'Little by Little' campaign set up by the GlobalGiving platform was designed to mobilize as many people as possible to give a small amount. Global Giving promised to increase any donated amount up to $50, or the equivalent in other currencies, by 50%. The campaign ran from 8 to 12 March, 2021.
Preparations by the Ruach Foundation started two months earlier with the development and preparation of a campaign plan. The team consisted of Astrid in Nicaragua, Daniella in Ecuador and Eric in the United Kingdom. Our goal was to raise as much money as we did in September 2020 when we raised over $4,000. This time we raised $ 3,003 USD donated by 26 people. And we also received another $ 597 in matching funds from Global Giving! This fundraiser got us closer again to the minimum capital we need to start our optical business.
Eric's charity run
In our last blog, Eric wrote:'To support March's Little-by-Little campaign I set myself another challenge, namely to run the route of my 1st Ruach run 26.2 km faster than on 31 December 2016: then it took me 2 hours and 36 minutes'.
And yes, Eric, now 64 years old, smashed his time from 4 years ago, and took 11 minutes off his time 4 years ago. He finished after 2 hours and 25 minutes.
About 20 people sponsored him and about $600 USD, excluding GG matching, was due to his commitment and support! Eric, you did a big job! We are deeply moved by your love for our work and we are very grateful to you!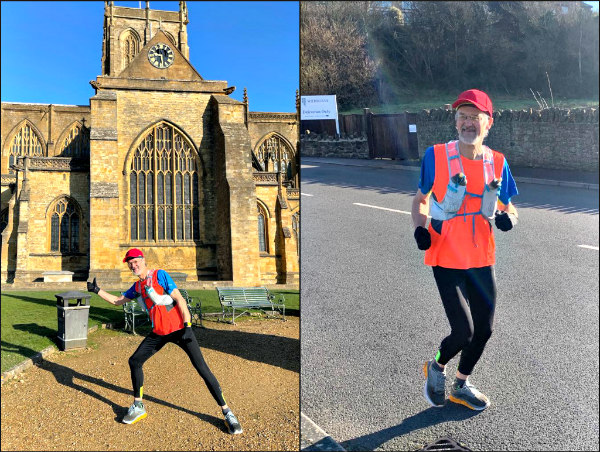 Next small steps
We do not yet have all the capital to securely start the business in hand. We have not yet been successful in raising larger amounts from companies and funding agencies. So we are now requesting friends (people of goodwill) to consider giving us an interest-free loan. We are short of about $10,000, and we would want to start as soon as possible. If you are interested, let us know!
In the meantime, we do not just sit back. We are trying to find retail space in the centre of Juigalpa for our optician's shop; there is not much choice, as Juigalpa is a small provincial town.
We also have contact with a lady who runs optical businesses in other parts of Nicaragua. She will sell us lenses, frames and some equipment at a friendly price in order to support our work. We also have a name for the shop and a logo in mind.
Little by little we hope to reach our goal. We are grateful for your interest and support.