Last week we went swimming with Loyda and Daniel because we want to give them new stimuli.
Just outside Juigalpa there is a restaurant with three pools of varying depths. Before noon it is very quiet there. Jonathan also joined the fun. He is an experienced swimmer and he is like a fish in water.
First time
Probably Loyda and Daniel had never been in a swimming pool before.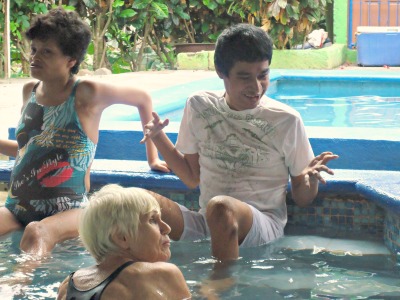 Straight away Loyda enjoyed having a shower and so we thought she might be a person who would also enjoy being in the pool. But Daniel didn't like a shower at all: he probably found it too cold? But how can that be? Water is not heated here, but with outside temparatures between 30 and 35 centigrades swimming should be a comfortable experience.
Enjoyment
The exercise is successful. Loyda quickly learns how to float and clearly enjoys herself. Daniel is more hesitant, but with a laugh on his face he climbs down the stairs and slowly gets into the wáter.
Need for a small money pot
Unfortunately we did not budget for this kind of activity We cannot think of everything after all. But at least we have experienced that this is a worthwhile activity, so we are going to do our best to find some money somewhere.