We, the Ruach workers in Juigalpa, are very active in running our community home for intellectually disabled adults and organizing recreational activities for this vulnerable population group. We would not be as successful as we have been without the moral and financial support from people in and outside Nicaragua.
Unfortunately we still depend on donations, although it is our dream to become financially independent by establishing 'Ruach Optics', an optical services business. Fortunately for us we have a network of people who support us and help to raise money in their own circle. In my last blog I gave a few nice examples of this. In this blog I will highlight Eric Jager's endeavours.
Eric
For many years already Eric has been involved with our work as a translator of Dutch blogs into English for the website www.vivirjuntos.org. He is a Ruach ambassador in Sherborne, Dorset, UK, where he lives with his British wife. He also took the initiative to issue Quarterly Newsletters in English. But his enthusiasm goes even further. He also supports Ruach with his runner's legs! On New Year's Eve 2016 he raised some money from family and friends by a solo run of 26 kilometers, more or less as a joke. But the fact that he raised more than $2,000 motivated him to keep doing sponsored runs for Ruach with the extra challenge that every next run needs to cover a longer distance. He ran 31 km in his 2nd Ruach Run in 2018 in the hills around Sherborne: ( picture below, left). In 2019 he participated in a 50 km road race in his Dutch place of birth Winschoten where he was cheered on by relatives in front of his former parental home (picture below, right).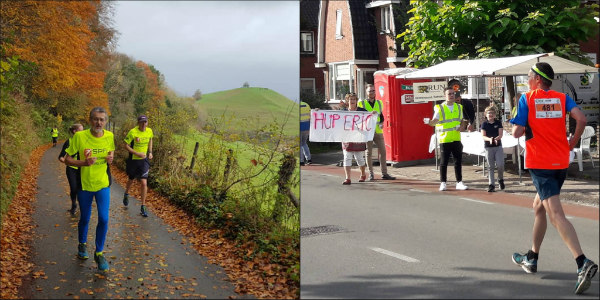 Eric's 4th Ruach Run
He had intended to participate again in the Run van Winschoten this year and run only a little bit more than 50 km by registering for the 100 kilometer road race. But because of corona the event was cancelled, so he had to find a UK alternative for his 4th run. He registered for an event on 7 November, the ultramarathon of the Lulworth Cove Trail Challenge, a 53 km race on the Jurassic Coast in Dorset, South England. Eric writes: "It will be a run up and down many cliffs climbing a total of 2,300 (vertical) meters. Coming down those meters will be slow and tough as well. It's going to be the longest and most taxing run in my 64 years. It's unfortunate that my 3 running partners will not all be able to join me, or only for part of the way, because of recent injuries or travel restrictions between Netherlands and England. But I hope to keep going nonetheless, and raise some more funds needed to start the 'Ruach Optics' project". Wow, that is a challenge!
Pledging your support
You can support Eric's Run by letting him know of your intention to sponsor him by email via Ruach or his private email address. After 7 November, (when the event is finished) he will send you a brief report on how he fared. You could then donate your pledged or any other amount into the account of Ruach's mother foundation in the Netherlands: Vivir Juntos, Leiden, account number NL10 TRIO 0390 943711, and the reference 'Eric's 4th Ruach Run'
Of course we warmly recommend this campaign to you! And we wish Eric the best of luck and lots of perseverance on the day. We will keep you posted after 7th November.