In my last blog I wrote about Eric. He had planned a sponsored run to raise money for the Ruach Foundation. It wasn't his maiden Ruach Run; in fact it was going to be his 4th Ruach Run! It is very heartwarming to feel the support for the work we do in Juigalpa. Not only Eric's support, but also the support from everyone who responded to his call to sponsor his run for us!
We cannot control our lives, even if we sometimes think we can. We have got intentions, and we work in directions that we think are worthwhile. But live is full of surprises, and sometimes things do not go as planned. Eric's 4th Ruach Run is a good example. He'd planned to participate in an organized ultramarathon event on 7th November on the Jurassic Coast east and west of Lulworth Cove near Sherborne (county Dorset) where he lives. But two days before the 7th, the UK went into its second corona virus lockdown, and regrettably the Lulworth Cove event was cancelled.
Well, that's just too bad! No, not quite!! 
Eric writes: "I organized my own ultra-marathon, within lockdown regulations, which allow outdoor exercise from home in pairs only. I also wanted to make sure I was going to make an effort comparable to the Lulworth Cove event so as not to frustrate my own sportive ambitions and my pledged sponsors' expectations. It became an ultamarathon in two parts, starting at 7am from my home (picture top left) for a 36 km solo run mainly on small roads, accessible to vehicles for safety reasons. Part 1 was, (after a short break to eat something and to change shoes and clothes) followed by a more scenic 24 km trail run with my main running partner of the past two years, Joanna. The second part could not have been more different from the first part: beautiful scenery, lots of mud and above all: good company, with Jo's husband Rufus also joining in for part of the way! The series of pictures tell the story.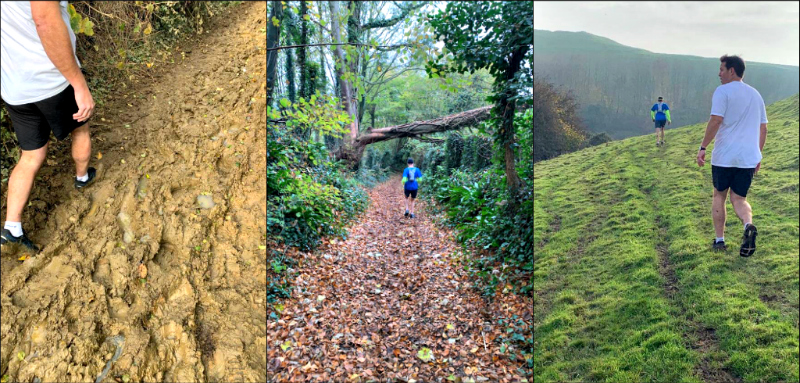 "Joanna and I finished our half marathon at the Sherborne Golf Club and we met up again with our spouses after which I ran the 3 km all the way downhill to home. I'd completed 60 km, my longest run ever, which included 'only' 1000 meters of vertical distance compared to the 2,300 meters the Lulworth Cove ultra would have been.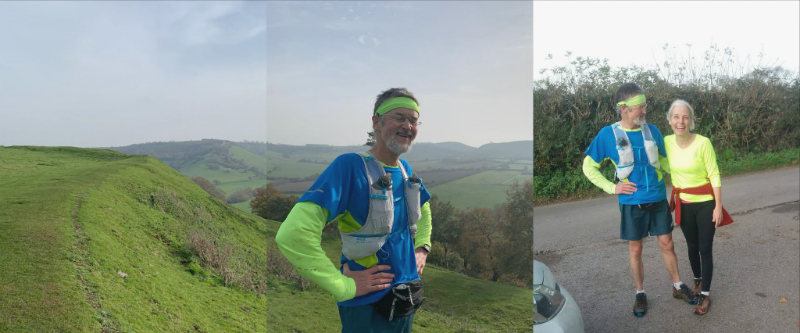 "Joanna was heroic on this journey. Although she was (and still is) recovering from a persistent injury, she had planned to join me for part of the Lulworth Cove run, so wonderfully she put her heart into supporting me in my 'alternative Lulworth'. Therefore, in the week after my run my wife Rosaleen awarded Joanna the FF Award. There will be a prize for the first person emailing me at what FF stands for!'

Sponsorship raised
We congratulate Eric with this fantastic effort. Many thanks to you and Joanna for supporting our work in Juialpa in such a unique way. So far Eric has raised €785 for Ruach. If you retrospectively would still like to reward Eric for his efforts, you can transfer any amount (nothing is too little) into the account of Ruach's mother foundation in the Netherlands, Vivir Juntos, Leiden, IBAN account number NL 10 TRIO 0390 9437 11 with a reference to 'Eric's 4th Ruach Run'.
Will there be a 5th Ruach Run? 
Eric writes: "It's not getting any easier raising the bar above 60 km. But running has given me so many health and other benefits, so I'm hoping to beat my age in kilometers (65) in the second half of 2021"
Eric, we wish you luck and hope to hear from you!