When later than planned we arrive at our host for the night, Anitia is nearly ready with preparing her part of our farewell meal. Lorena is already there, and minutes later we welcome Elizabeth with her daughter Astrid, and Leonor. Finally Mary arrives with her daughter Madeleine.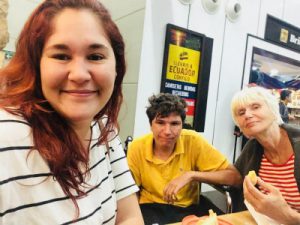 It is a 'pot-luck' occasion. And Anitia has also brought chocolate cake to the party, her speciality and always the ultimate delight for Jonathan!
We have known the guests for years as I lived and worked in Guayaquil from 2003 to 2006. During that period I 'home-schooled' Jonathan using a programme based on the Sonrise method of the Option Institute in the US. After a trial period for which I carried the responsibility, Lorena, Mary, Anitia and Elizabeth took it in turns to work with Jonathan for two hours every day. Also in Ecuador it is difficult to find staff with experience in autism. The advantage of teaching Jonathan at home at that time was that there was always somebody at home to receive Daniella after school, which freed me up to devote my time to my work outside the home. Close bonds between all of us, which are still felt by Jonathan. were forged during that period.
Of course Daniella was also at the party together with her friend. It was a good end to our holiday in Guayaquil, which largely focused on family reunion and visiting friends.
Fundación Sergio Plazas
We also used our time in Ecuador to strengthen Ruach's link with the Fundación Sergio Plazas. This is also a foundation working for people with an intellectual disability. Last year I visited them for the first time and although I had kept in touch with them since then, I was keen to meet their participants again and to find out how the Foundation had been faring. The enthusiasm of Glenda, the person-in-charge, was still palpable, but she had not managed to strengthen the base of her Foundation, and the number of employees had dropped. It was a good opportunity to compare notes. I was invited to their party on 14th February to celebrate 'Friendship Day'. The picture at the top of this blog shows it was a cosy get-together.
Jonathan's favourite spot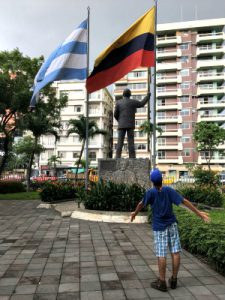 Leaving Guayaquil for Jonathan also meant saying good bye to his favourite spot: the two flags in the Malecon Salado park. His autism no doubt will explain his fascination. It was easy to rediscover this place as we used to live near the park and as a small boy Jonathan spent hours watching the waving flags. But it was special to notice that little of his old fascination had gone. I arranged to meet many of my contacts on the bench in this park, so that Jonathan, my friends and myself all had a good time! A nice combi, don't you think?
Juigalpa
Last night we said our good byes at the airport. Now we are back in Managua, Nicaragua's capital, after a good journey. We took it in stages, to allow Jonathan time to gradually adjust to being back in Nicaragua. He was not keen to get back, but unfortunately he cannot express himself well enough for us to really understand what makes it hard for him.
Tomorrow we will travel back to Juigalpa. What will we find there? I only kept minimally in touch with the community home during our three weeks away as I think that keeping some distance will help the staff in the Home grow in their roles. And as I did not hear from them I assumed that 'No news is good news'. The coming weeks we'll try to learn from our experiences, and to improve the way we respond to each other within the team even more. Because only together can we make a difference!