This year my son Jonathan and I could not visit Daniella in Guayaquil Ecuador, as we usually do at this time of the year. There were hardly any flights to and from Nicaragua. And with additional corona virus measures in place, traveling with Jonathan, challenging due to his limitations and autism at the best of times, would be an even more obstacle-filled journey. For us to have a break, we had to choose an alternative.
Our Finnish friend and her (Nicaraguan) husband have a beach house about two hours from Managua, which we were welcome to use. It suited us well. The beach was nearly deserted with only a few local residents passing by. From our house I could watch Jonathan sitting in the sea. For one week we were in a different world: enjoying the peace, the beach, the vast starry sky; reading; and of course being in the sea. And as we did not have internet access all the time, I was able to keep in touch without being too busy with work. A relaxing holiday!
Activities club

At home in Juigalpa, the normal activities in the community house and at the activity club continued. Of course I had made the necessary preparations as well as I could, but you cannot plan for the unexpected. For example, Ingrid, the manager of the activities club, told me two days before my vacation that she was going to leave her job because she had been offered a full-time job elsewhere. Good for her, but it was a pity for us, because I was very satisfied with her performance. It also left us with the problem of getting a successor as soon as possible. Ingrid helped searching and I had some ideas. So the day after I left two apparently suitable candidates were interviewed. Our preferred candidate accepted the job and was able to be trained by Ingrid on the job the following week. It was also a new experience for Scarleth, my right-hand woman in the community house, to lead the interview process with the Chairperson of the Ruach Fundación. Experiences like this help her grow professionally and prepare her for taking on other challenges.
Community home
In the community home we also have a vacancy for a live-in home care assistant. This is an important person because as a precaution we always need two care takers in the Home at night. Because of my absence I had to look for creative solutions. We only have one experienced night help; the second one has only just started. I also could call on our third person, a volunteer who helps out in emergencies. But more people are needed to cover all night shifts for a longer period. In the end everything worked out OK because of a friend of mine who has known the core members of the Community for years.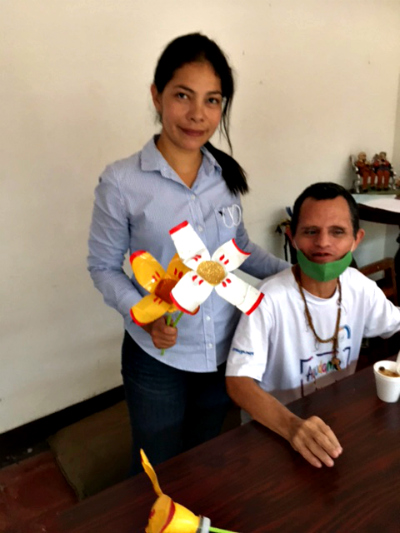 Lessons learned
It was good I had to take a step back and was out of the picture for a while. It helped my colleagues to feel more responsible for how things are going in the Home. It is clear that they have enough skill to keep everything running. They can make still more progress by becoming more analytical and more alert to what is happening and how they respond to situations, which will improve the quality of their work even further. 

PS: On 30th January we had interviews to fill the vacancy for a live-in home care assistant, and we found a suitable candidate, who was going to start her trial period on 1 February. We were full of anticipation, but unfortunately the candidate did not show up on the day.