Here we are enjoying ourselves for a few days on the beach in Salinas. No, not in Nicaragua, but in Ecuador, the place where Daniella, my daughter and Jonathan's sister, lives. So it's a real family holiday.
It's very important for Jonathan to meet his sister face to face as it is difficult for him to communicate via telephone or Skype. Daniella and Jonathan have a strong bond that we want to maintain. It makes it even more special because none of the other Ruach Home core members have a bond that can be felt or noticed with any of their siblings.
Family
It's understandable that none of the siblings of Daniel, Maria Elena, Manuel or Miguel could provide a home for them because it is very demanding to look after a brother or sister with certain limitations.What are the alternatives in Nicaragua? In Juigalpa there are no care institutions that can house them; there are no home care facilities, not even a day care centre for intellectually disabled people.
As far as we know there are only two centres in the capital Managua able to admit a limited number of intellectually disabled people. Without Ruach, our current core members would have had to stay in their old homes with a reduced quality of care and increased chances of neglect.
Brothers and sisters
Now they live with us. All of them have brothers and sisters. Loyda and Daniel get visits twice a month from one of their siblings, but she mainly comes to accompany their mother who is old and sickly.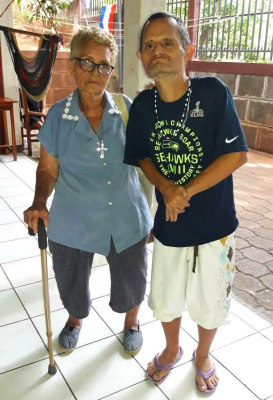 But they never see or hear anything from their other four siblings. Miguel's case is even sadder. His mother is an octogenarian; she cannot walk properly. She visits Miguel occasionally, but we have never heard anything from any of Miguel's siblings, although one of them owns a vehicle. The father of Maria Elena and Manuel admittedly lives far away, but two visits in the past year and only one or two phone calls during that period leaves much to be desired. And none of their siblings have been in touch. Manuel suffers from this; he operates at a higher functional level and is more aware of this lack of contact. Time heals some of the wounds fortunately, and at Ruach we offer a range of enjoyable and stimulating activities which soften the pain. But we feel powerless sometimes. At a deeper level it is difficult to understand why in a country like Nicaragua, where society so much values family connections, people who are among the most vulnerable fall between the cracks.
Community Home
If I ever have to explain to outsiders what our community home is all about, I always say: 'We are a somewhat odd family; we give respect to people who in their own homes and in society were treated without regard; we make them feel that they belong with us and that we are happy to have them with us.' But we aim higher than 'just' providing a home and a better life for Loyda, Daniel, Maria Elena, Manuel and Miguel. We want to play our part to create a more human society for many more people in their situation.