I'm delighted to share with you a chapter of my six-monthly report (January-June 2020) to Ruach's mother foundation Vivir Juntos (Leiden, Netherlands) about health issues among core members and the staff of our community. The past 6 months have been a time full of surprises and challenges.
Resident core members

During these last 6 months we have occasionally visited a holistic doctor with some of our core members. Our view is that illness or ailments indicate that the body is out of balance and it needs support to strengthen its immunity. Whenever possible we prefer avoiding the use of medicines. Jonathan and I visit this doctor once a month for treatment of his epilepsy and irritability. For him these visits are an outing! Generally speaking the core members are in good health. Loyda's health has improved and she rarely gets diarrhoea anymore, which is a fantastic achievement to which our care, her body and the visits to this doctor have contributed. Loyda now rarely needs a special diet!
In February Loyda, Daniel and Jonathan had their teeth cleaned under local anaesthetic by a dentist-friend of ours and his friend who is an anaesthetist. Because of the corona virus we opted not to contact a medical friend who works in a health centre, but consulted a private doctor who offered favourable terms for his services. He also visited Ruach to check up on Rommel when he joined us recently as a new core member.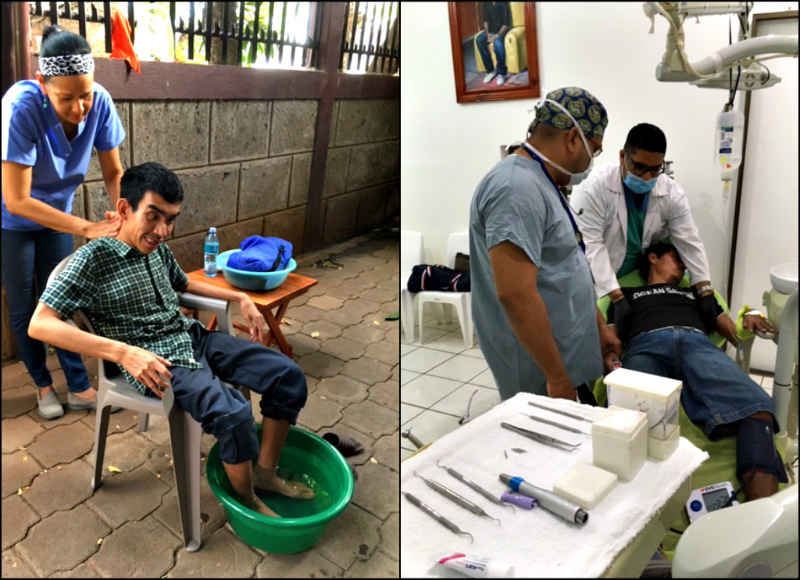 Personnel
Mary, one of our home assistants, had an operation in March after which she was given two months of medical leave, a period which was extended till 1st July. Fortunately we met Sayra, who replaces Mary during her absence. Sayra is God-sent as she very obviously has experience in working with disabled people and fits in well with our team.
Ana, our home care assistant who lives at Ruach, (the community needs at least two carers at the home every night) was given medical leave in June because of the risk of a spontaneous abortion. Her condition is not yet stabilized and her absence is sorely felt. 

In June COVID-19 infections in Nicaragua were on the rise. Several employees (one assistant and the cleaner/cook) started feeling poorly and showed symptoms consistent with COVID-19. As it is not easy here to be tested for COVID-19, we decided to 'be safe rather than sorry' and recommended that the affected staff recover from their illness at home. Fortunately the other members of the team (two assistants) were very positive and understanding and helped each other to cope with the increased work load. However, the staff situation was truly minimal and I also was not able to take my usual holidays. At this time we also engaged the one reserve assistant who can be called upon in emergencies like this. We've now started trying to recruit a second emergency worker to help out if the situation were to get worse. It is not easy to find such a person, because few have the required experience to work with intellectually disabled adults; being of good will is not enough.
Physiotherapy and massage 

The physiotherapist who gave monthly treatments to Loyda, Daniel en Maria Elenea left Juigalpa. We have found a replacement who, because of COVID-19 restrictions, has not yet been able to start work with our core members. In the meantime we try to keep the latest physio- exercises going (with slight modifications) by using our own common sense and 'wisdom'. Likewise, the massages which Daniel and Maria Elena received weekly from a volunteer had to stop because of the quarantine regulations.
Conclusion
The past six months have been full of surprises: not only at home, but also in Nicaragua and in the world. I think we can be proud of the way we have addressed the challenges we had to face. We've become a stronger community and have met our development targets for each of our core members reasonably well. Our team has grown in its ability to learn from facing difficult situations, and it is thanks to them that we have taken concrete steps forwards in realizing our dreams for a better life for adult people with intellectual disabilities.
I'm very grateful for all support, financial and otherwise, received from so many people in Juigalpa, England, Netherlands and other countries.
I experience God's hand in our work which gives us courage and confidence to continue. I'm very grateful for the support of the Vivir Juntos Board, our pillar of strength, and for their financial support.
There is power in unity! We all play our part for a better society in which people with intellectual disabilities are treated more positively. It feels very good to be part of this process.
Astrid Delleman, Coördinator of Ruach's Community Home and Activities Centre.