Don Nestor arrives by car in good time to take us -Manuel, Miguel, Maria Elena, participants of our Activities Club and myself- to the bazaar in town; it's already a cosy jamboree. Some of our Board members arrive a bit later.
The club '4×4 Chontales' runs a second hand clothes market today to raise funds for the Ruach Foundation. Every year they support a social project and, having heard about us in a roundabout manner, they decided to support us. It's the first time that another organisation is supporting our Foundation. What a marvellous gesture!
Club 4×4
Club 4×4 is a national organisation which organizes recreational activities for its members, all families who own a jeep or another type of 4-wheel drive vehicle. Apparently there are also branches internationally. Every branch's main aim is to raise funds for a social project in their local area. Members of the club make a trip once a month to an inhospitable part of Nicaragua to promote tourism. The tougher the trip, the more the families enjoy it. Of course it is very educational for all children who join the trip.
Bazaar
The opening of the bazaar was scheduled for the afternoon. But the members were so enthusiastic that the sale already kicked off in the morning. When we arrived at 3 pm to represent the Ruach Foundation, the market was already in full flow. Our group was offered something nice to eat and they enjoyed the busy-ness around them. 

This morning Maria Elena received 20 cordobas from a half-sister who unexpectedly visited her. Maria Elena never buys anything because she has got no money and is therefore not used to managing money. But sure enough, now that she had some money, she really wanted to spend it. She's got her eyes fixed on a fabric storage bag which she can use to tidy possessions away on a wall in her room. That is very useful for Maria Elena who is a bit chaotic and easily leaves things scattered around and then loses them. She wants to buy the bag, but of course it costs more than her 20 cordobas. But the seller enters into this dilemma and offers it to Maria Elena for 20 cordobas. She beams with pride and pleasure!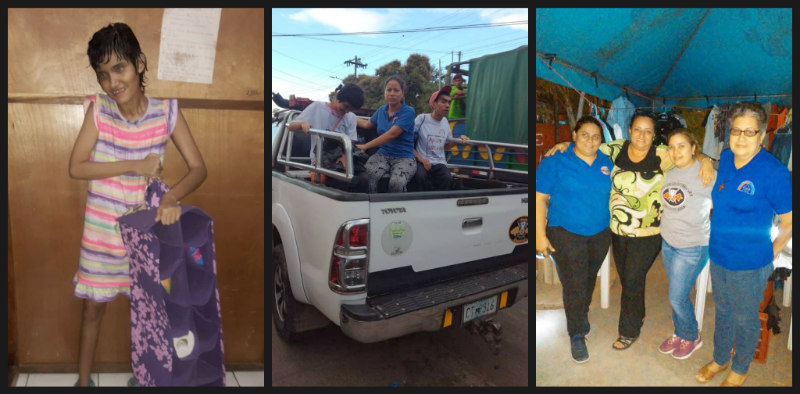 The pictures give some idea of what the afternoon was like and hold nice s memories of this great gesture of Club 4 by 4. And we are sure that this afternoon got other people moving and that we may be lucky enough to extend our circle of godparents.
Handing over
At 5 pm we were dropped back home. Next week we want to arrange for the profit of the bazaar being officially handed over to the Ruach Board in our Community Home, in the presence of all members of 'Club 4 by 4' AND their children. It's one thing that we have raised some funds, but another and equally important is that we raise more awareness. Both organisations benefit from the event to some extent, a true win-win situation. Together we can make the difference!