On 26th October we announced that Eric Jager would be attempting to run more than 26 km as part of a Ruach fundraising campaign. He made it a condition that people should not sponsor him unless he beat the 26 km distance he ran solo two years ago in his 1st Ruach Run.
We are delighted to report that Eric at age 62, and senior member of his running club, has indeed done so: on 10 November he ran about 31 km in a bit over 3 hours, supported by a group of SPFit Running Club team mates who joined him all or part of the way. There was a small celebration at his home shortly after the run.
Eric writes: "It was a fantastic occasion through the beautiful hilly countryside outside our home in Sherborne. I had planned two loops of 21km and 10 km, both with start and finish at our home, to make it easy for SPFit club members to join in later or for shorter distances. Running together made it all so much easier. Frequent short water stops kept us hydrated. We had agreed I would be setting the pace, and because I did not want to miss hearing the relaxed chat between my fitter team mates running behind me, I was at no risk of going too fast. So for once I was not totally knackered at the end of a long run! Thank you guys!!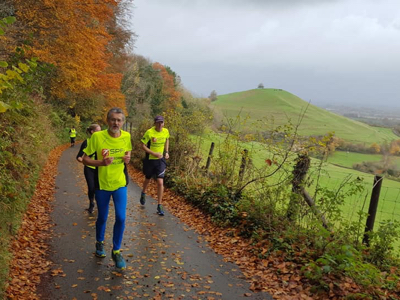 Personally I'm feeling much more an ambassador than a fund raiser, so I'm particularly pleased that 'Ruach' got some attention locally One of the supporters was Rachel, who had been told about the run by our running club boss. She runs a charity for Special Education Needs children and as part of her work also tries to connect representatives of other Dorset charities and also has a monthly time slot on the local radio station Abbey104! She took some of the photos. We'll be on the radio to talk about Ruach early next year. My wife and I are now part of her dynamic local charity network.
This event has given me lots of energy, and the definite urge to keep running, for Ruach and other local charities. I'm already brewing plans for the 3rd Ruach Run.